Effect of Foreign Assistance on the Economic Growth of Recipient Countries of Asia
Keywords:
Economic Growth, Political stability, Foreign Assistance, Asia
Abstract
This study examines how foreign aid affects the economic growth of developing countries in Asia. The data is collected from 1984 to 2013 from nine developing Asian countries. It is experienced that foreign aid and its influence on economic growth demonstrate significant ambiguity about the sign and magnitude. This study accentuated the policy role and the role of political stability for foreign assistance on countries' economic growth. This work establishes foreign aid contributes to growth through good governance, employing ?xed effect in a static-panel context. It also supports the evidence of a negative relationship between foreign aid and economic growth. The ?nding suggest noticeably that foreign aid is growth-enhancing if there is a better policy situation along with political stability.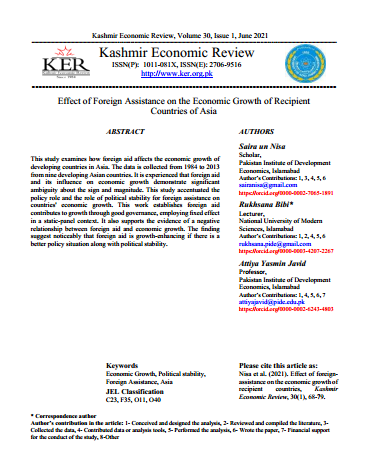 Downloads
License
Copyright (c) 2021 Kashmir Economic Review
This work is licensed under a Creative Commons Attribution-ShareAlike 4.0 International License.