An Analysis of Women Employment Status in Household Decision Making: Empirical Evidence from Pakistan
Keywords:
Women employment, Household decision making, Survey data, Generalized Ordinal Logit
Abstract
The study aims at empirically examining the role of women's employment status towards their capability in household decision-making. Generally, it is believed that employment status creates a sense of empowerment and allows women to be more proactive and influential in their household affairs. The study objectively explores this aspect through a survey of employed and unemployed women from Punjab province (Pakistan). A multidimensional index has been constructed to evaluate women's involvement in household decision-making. Utilizing a "Generalized Ordinal Logit Model", the study finds that employed women hold a dominant position in their household decision making as compared to their unemployed counterparts. The proportional odd of higher participation in household decisions is found significantly higher in employed women as compared to unemployed women. Additionally, the study proclaims the income level of employed women, their marital status, their education, and the educational level of their fathers as significant in the deterministic framework of women's household participation.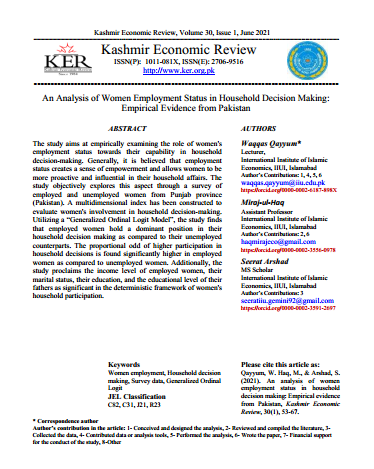 Downloads
License
Copyright (c) 2021 Kashmir Economic Review
This work is licensed under a Creative Commons Attribution-ShareAlike 4.0 International License.